Just Because It Says Clarke, It Doesn't Mean It Is!
CLARKE® Fire Pump Drivers are designed, assembled and listed by CLARKE® providing guaranteed power at SAE conditions 77F(25C) @ 300 feet (91.4 M) above sea level. Counterfeit engines have not been tested to produce guaranteed power and the engine components may not be compatible with other listed components. Counterfeit engines provide no savings because when discovered not only does the engine have to be replaced, but sometimes the entire fire pump set does as well.
Since people's lives and the protection of property are at stake, providing a genuine listed diesel fire pump driver is imperative to ensure that the pump will produce the correct pressure and flow to allow the fire sprinkler system to work correctly.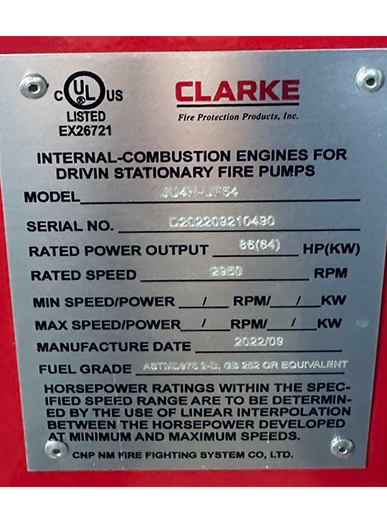 Incorrect Nameplate Design
Clarke currently uses a black and white laser etched nameplate design. This counterfeit engine nameplate uses an incorrect design, and incorrect engine data.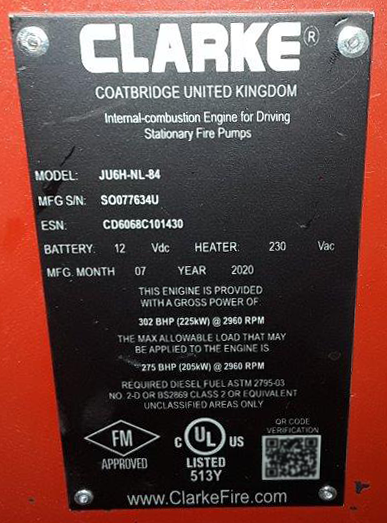 Incorrect Nameplate Data
This counterfeit engine nameplate uses the current black and white nameplate design, however the nameplate data is incorrect. This counterfeit example shows a Clarke non-listed engine model with UL and FM certification logos.
This implies it was attempting to pass a non-listed engine as a listed product.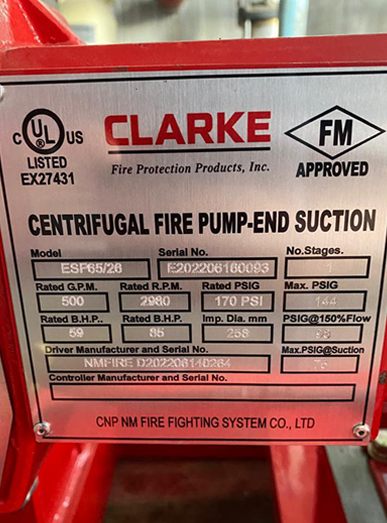 Counterfeit Pump Nameplate
This counterfeit nameplate attempts to pass as a Clarke pump with another manufacture's fire pump driver.
Clarke only manufactures fire pump drivers. Clarke does NOT manufacture or sell fire pumps.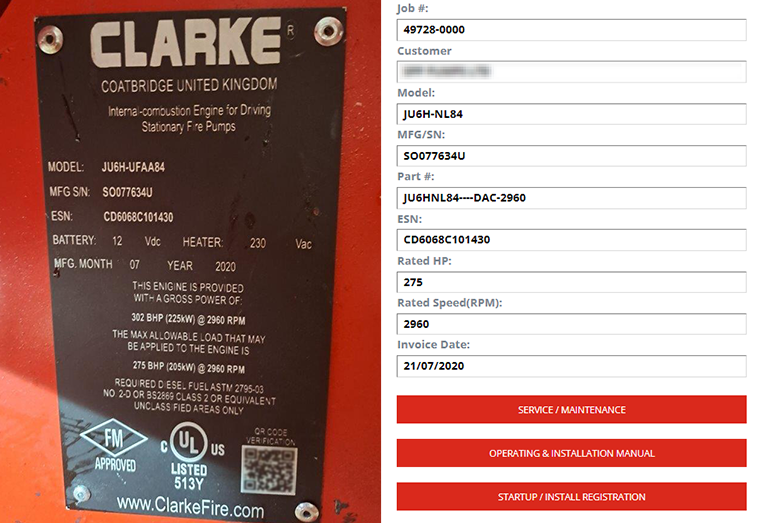 Always Verify Your Engine
This counterfeit nameplate does have inconsistencies with a Genuine Clarke nameplate, but it is not always obvious unless you verify the engine using the QR Code Verification Process.
After scanning the QR code on the engine nameplate you can see that the engine model and other details do not match the engine nameplate.
When purchasing a CLARKE® engine, you should be able to verify the authenticity through Clarke's website, the seller, or an approved Authorized or Master Service Dealer. If you cannot verify your CLARKE® engine, contact Clarke's Customer Support group at parts@clarkefire.com or call (513) 475-FIRE.